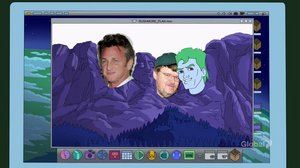 Sean Penn (born August 17, 1960) is an American film actor and director, who is also known for being a political activist. He is a two-time Academy Award winner for his roles in Mystic River and Milk. Penn's personal life began to attract media attention when he married pop star Madonna in 1985. The relationship was marred by violent outbursts against the press.
Roger forces Francine to roast Stan in "Great Space Roaster" as she claims that he has "the annoying self-righteousness of Sean Penn."
Radical Occupy terrorists brainwash Stan in a plot to use missiles to re-scupt some of Mount Rushmore's figures into those of leftist heroes including Sean Penn, Michael Moore and Captain Planet in "Honey, I'm Homeland". Thanks to Hayley's intervention, Stan breaks the brainwashing but the missiles are still launched. They are taken out by a CIA installed anti-missile laster defense the entire plot is revealed to have been a test of the system.
Community content is available under
CC-BY-SA
unless otherwise noted.