School Lies
Roger accidentally sells a senator's daughter to pay a debt.

Season: 6 Episode: 14
Total Episode Count: 110
Prod. no.: 6AJN03
First Aired: April 3, 2011

Guest Starring: Burt Reynolds
Featuring: Senator Buckingham, Stan Smith, Roger
Also Appearing: Steve Smith, Francine, Hayley, Klaus, Principal Lewis, Avery Bullock, Duper, Saunders, Dick, Weber, Bertram, Cookie Buckingham, Melissa, Chris the bum, Ronald, Consuela, Chicas Freakas, Carl, Lessie, Jimmy Boombox, John Q. Mind, Crackhead Booboo, Chuck Norris
Director: Rodney Clouden

Assistant Director
:
Chris Robertson
Writers
:
Brian Boyle
Storyboarders
:
Eric Fredrickson
,
Erik Kuska
Roger's Disguise
: Scarlett O'Hara from "
The One That Got Away
"
Plot
: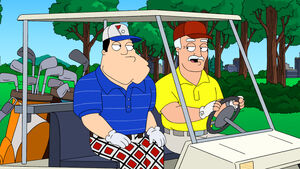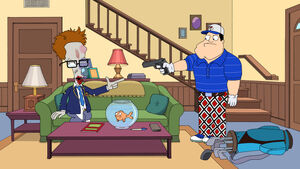 Stan becomes frustrated when his years of service go unnoticed by Senator Buckingham who promotes his golf buddies ahead of Stan. When Steve's school is closed for asbestos removal, Francine insists on sending Steve to a private school over Stan's objections that he needs the money to join a golf club to get closer to the Senator. Stan's harsh appraisal of the private school changes when he learns the senator's daughter is a student and he forces Steve to attend. Steve exits through a back door and cuts school but Stan is successful in receiving an invitation from the Senator to play golf.
Later at work, Stan finds out from Francine that Steve cut school. Steve threatens to embarrass Stan if he is forced to return to the academy so Stan disguises Roger as Steve and turns Steve loose to amuse himself at the arcade. At the arcade, Steve manages to impress an all-girl street gang with his shooting ability and is initiated, the gang accepting him as more girl than boy.
After Stan ingratiates himself with the Senator, he arrives home to find out Roger sold the Senator's daughter to a drug dealer to pay for a drug binge they went on together. After asking the drug dealer to return the girl fails, Stan crashes his car into the hideout and steals the daughter back. Taking her to the Senator's house for dinner, she passes out into her food. The Senator reveals he is aware of her drug problem but continues to put his career first. The Senator offers to grant Stan one favor and before he could ask for a promotion, Francine calls hysterical that Steve was involved in an armed robbery and arrested. Forced to choose between advancing his career or helping Steve, Stan observes the Senator working on his Blackberry while ignoring his daughter who remained face-down in her food, desperately trying to reach out for her father only for him to move farther away. Stan elects to use his favor to bail Steve out of trouble but is forced to frame someone for the armed robbery.
On the run from the law, a boy from the private school with ALS (Lou Gehrig's Disease) whom Stan tagged as Jimmy Boombox encounters the escaped John Q. Mind last seen in "In Country...Club" escaping from a mental hospital. Recognizing a kindred spirit in Jimmy, John Q. Mind uses his mental powers to place Jimmy in the sidecar of his motorcycle and they race off together to have further adventures. Their departure is covered in the style of a television adventure drama title as Mind Quad!.