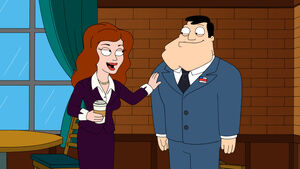 Scarlett Reynolds is Stan Smith's old CIA boot camp crush.
When the CIA brings in a specialist to catch Roger in "The Scarlett Getter", Stan meets with Roger at Coughy's Coffee Shop to warn him. When Stan spots Scarlett, Roger takes notes of her good looks and suggests he should try to take her out. Stan rudely dismisses the idea and invites Scarlett over to the house. At the house, Francine is annoyed with Stan mooning over Scarlett and heads to Roger's Place for a drink. When Francine finds out that Roger is also irritated with Stan due to Scarlett, she suggests he put on a charming persona and break up the couple. When "Dan Ansom Handsome" arrives downstairs, Scarlett appears charmed much to Stan's annoyance. Roger gives Stan an ultimatum of Scarlett or Francine, insisting that he'll have sex with the one Stan rejects. Stan reluctantly agrees not to interfere with Roger and Scarlett.
Stan reneges on his promise and attempts to break up Roger and Scarlett, further strengthening Roger's resolve to have sex with Scarlett to prove Stan wrong. Stan decides to tip off alien hunter Shannon Sharpe about Roger and takes him to the ski chalet of his fantasies. Francine arrives to find movers removing Roger's stuff as Klaus tells her about Stan's plans to turn Roger over and is taking Roger's attic space. At the ski chalet, Stan and Shannon arrive to find Scarlett and Shannon reveals that Scarlett is a rival alien hunter. Scarlett shoots Shannon and starts to do the same to Stan when Francine arrives and shoots her instead. Scarlett's body rolls into the fireplace, and bursts into flame, immediately becoming a pile of ashes. They find Roger tied to a bed with is skin peeled and organs removed which he mistook for rough sex.
Scarlett is voiced by Sharon Lawrence.
Community content is available under
CC-BY-SA
unless otherwise noted.