Roger Passes the Bar
Roger decides to sell his bar, Roger's Place.

Season: 10 Episode: 01
Total Episode Count: 173
Prod. no.: 8AJN21
First Aired: September 14, 2014

Guest Starring: Jane Krakowski
Featuring: Roger
Also Appearing: Stan, Francine, Hayley, Klaus, Steve, Barry, Snot, Toshi, Danuta, Misty, Earl, Betty Smith, Danny, Jessica, Mary, Mick, Charlotte, Ted, Toby, Jeff, Clarence the goat
Director: Josue Cervantes

Assistant Director
:
John O'Day
Writers
:
Charles Suozzi
Storyboarders
:
Jee Hyun Yoo
,
Frank Jen
,
Eric Fredrickson
Roger's Disguise
: Greek Carmen Miranda from "
Naked to the Limit, One More Time
"
Plot
: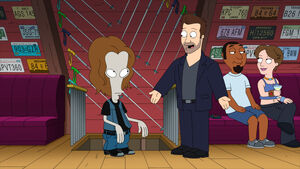 Roger awakes and begins his day at his bar, greeting his overnight customer, Mick. As the day progresses, the stress from the family and customers starts to wear on Roger as he receives an offer from Toby to sell his bar but he turns it down. As the stress from the day continues, Roger has a heart attack and is rushed to the hospital. Despite his intention to get back, he is forced to stay and recuperate. Francine brings Toby to his side to talk him into selling the bar and he tearfully agrees.
Without his bar, Roger turns his attentions to serving the family, making them breakfast and planning events with them. However, they move on with their lives, leaving him behind. Roger tries to focus on relaxing without luck. Overhearing a commotion in his former bar, he investigates to find it packed and changed to a more upscale place now called "Roger's Spot". When he is shown the door, he decides to buy back his bar. When he confronts Tony, he is told of plans to expand nationwide and is asked to be the face of the chain.
Roger stars in commercials for the new place, but it carries over into his home life and Francine is worried about him being even worse off than before. At a grand presentation, he meets Nick who has cleaned up his life now that he has left Roger's Place. As he speaks, he tries to involve Mick and suddenly realizes he has lost the soul of his place. He tries to bring down the new chain and eventually succeeds, buying back his original bar.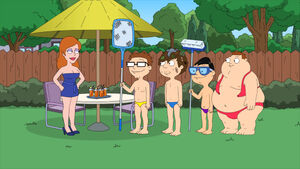 Steve and his friends meet their new neighbor Charlotte who informs them that she is a registered sex offender to the boy's surprise as her introduction turns to flirting. The boys head to her house with the intent of being able to have sex and her request for help with yard work is interpreted as a path to sex. They try to dress in bathing suits to tempt Charlotte while cleaning the pool, who appreciates the job and leads them into more work. They remodel her entire bedroom but find she only used them to flip the house as her idea of turning them into men was for them to learn a trade as she leaves. Steve recounts what happened to their future lives as their encounter with her turned them all into homosexuals.