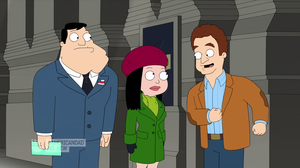 Robert Wuhl (born October 9, 1951) is an American actor, comedian and writer known for his work in the 1989 version of Batman, Bull Durham, Good Morning Vietnam and the HBO series Arliss.
Wuhl provides his own voice when he gives Stan and Hayley tickets to his show at Carnegie Hall in "Manhattan Magical Murder Mystery Tour". But when they arrive, they find that there is no show and that he really just wants them to hang out with him, following him to a deli to pick up potato salad before heading to his place. Hayley threatens to leave, but he vows to catch them as he keeps an eye on them from the open bathroom door as he uses the facilities.
They run for it anyways, leading him on a chase back to their hotel where Steve and Roger try to solve a mystery in which Francine has been kidnapped. Believing that the celebrity guest star is the guilty party, they tackle him, but he is vouched for by Stan and Hayley who were with him the entire day.
Wuhl is a possible candidate of being the owner of the mineral rights to the Smith property in "Mine Struggle".
Robert has become the go-to judge of various events, including the Pearl Bailey High School talent show in "The Talented Mr. Dingleberry", in the body building contest in "One-Woman Swole" as well as the state choir finals in "Persona Assistant".
Robert, a five-time winner of the Best Buy Best Boy award, presents the award in "Cry Baby".