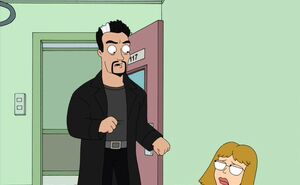 Robert Hammond Patrick, Jr. (born November 5, 1958) is an American actor, known for his leading and supporting roles such as the main villain, the T-1000, in Terminator 2: Judgment Day. Other films include Wayne's World, Last Action Hero, Fire in the Sky, Cop Land, The Faculty, Walk the Line, We Are Marshall, Bridge to Terabithia, Spy Kids, and Flags of Our Fathers. He also starred in such television shows as The Sopranos, The Outer Limits, The X-Files, Last Resort and From Dusk Till Dawn: The Series.
Robert provides the voice of the mysterious stranger who vows to catch John Q. Mind in Mind Quad! at the end of "In Country...Club".
Community content is available under
CC-BY-SA
unless otherwise noted.