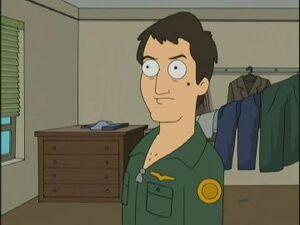 Robert De Niro, Jr. is an American actor, director, and producer.
De Niro won his first Academy Award as Best Supporting Actor for The Godfather Part II (1974), followed by a 1980 Best Actor Academy Award win for Raging Bull. Other films include Taxi Driver, The Deer Hunter, Goodfellas, The Untouchables and Meet the Parents and its sequels.
Robert De Niro appears on the set of Taxi Driver in "The Best Christmas Story Never". When Stan has to take over filming Taxi Driver he criticizes De Niro's acting. De Niro walks off the set, leaving John Wayne to take the role of Travis Bickle.
Robert De Nero appears as one of the celebrity robots in "Tearjerker".
Stan claims he went from zero to hero to De Niro as a wrestler and uses Travis Bickle's catch phrase from Taxi Driver in "The Wrestler".
De Niro is voiced by Greg Berg.