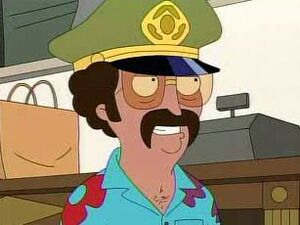 Ricardo Gonzalo Pedro Montalbán y Merino, KSG (November 25, 1920 – January 14, 2009), was a Mexican-born American radio, television, theater and film actor. He had a career spanning seven decades (motion pictures from 1943 to 2006) and multiple notable roles. During the mid-1970s to the early 1980s, Montalbán was the spokesman in automobile advertisements for the Chrysler Cordoba (in which he famously extolled the "soft Corinthian leather" used for its interior). From 1977 to 1984 he starred as Mr. Roarke in the television series Fantasy Island. He played Khan Noonien Singh in both the 1967 episode "Space Seed" of the first season of the original Star Trek series, and the 1982 film Star Trek II: The Wrath of Khan. He won an Emmy Award in 1978, and a Lifetime Achievement Award from the Screen Actors Guild in 1993. Into his 80s, he continued to perform, often providing voices for animated films and commercials. And in the 2000s, the actor appeared in several Spy Kids films as "Grandfather Valentin."
Ricardo Montalbán provided the voice for General Juanito Pequeño in "Moon Over Isla Island" in his final acting role before his death.
Community content is available under
CC-BY-SA
unless otherwise noted.