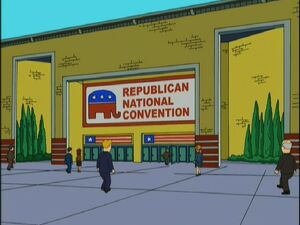 The Republican National Convention is the presidential nominating convention of the Republican Party of the United States. Convened by the Republican National Committee, the stated purpose of the convocation is to nominate an official candidate in an upcoming U.S. presidential election, and to adopt the party platform and rules for the election cycle.
Like the Democratic National Convention, it signifies the end of a presidential primary season and the start of campaigning for a general election. In recent years, the nominee has been known well before the convention, leading many to oppose the convention as a mere public relations event and coronation.
The Langley Falls chapter of the Conservative Republicans chose Nancy Calliope as their first choice to speak at the Republican National Convention edging out Stan in "Lincoln Lover". Stan attracts the attention of the Log Cabin Republicans, a group of Gay activist Republicans that are refused entry into the convention. Nancy is later disqualified when it is discovered she drives a Toyota Prius. Stan is given the chance to replace her and takes the opportunity to speak out on the behalf of the Log Cabin Republicans at the convention.
Community content is available under
CC-BY-SA
unless otherwise noted.