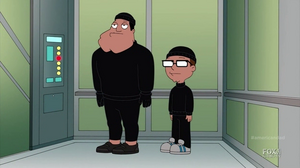 "Reminiscing" is a 1978 song written by Graeham Goble, and performed by Australian rock music group Little River Band. It reached #3 on the Billboard Hot 100 chart and #10 on the Easy Listening chart.
When Stan and Steve take the elevator at CIA Headquarters to the permanent records room in "Permanent Record Wrecker", a recording of Avery Bullock advises passengers that secrets are meant to be kept secret before providing elevator music by singing "Reminiscing".
Lyrics
Friday night it was late
I was walking you home
We got down to the gate
And I was dreaming of the night...
Community content is available under
CC-BY-SA
unless otherwise noted.