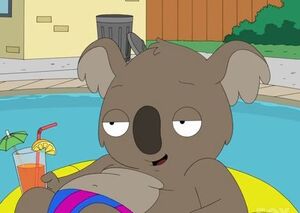 Reginald the Koala introduces the back story of Reginald Koala first seen in "Family Affair", of a homeless man nicknamed Reggie, whose brain is switched with a koala. He becomes a more regular character in the series, often hanging around Hayley to the point it appears they have both developed feelings for each other.
A snippet of the song plays again in "The Return of the Bling".
Listen
Lyrics
Reginald didn't have a job
The weather was changing, he looked like a slob.
But then one cold, dark winter day
Came along an opportunity.
So he followed the address
to get his free meal
On the surface it looked like a helluva deal.
But when he took his first bite, they put the helmet on tight
And he heard the hum of a hundred-million watt laser
Reginald: It was scary y'all
Reginald, and he used to be nothing
Now he's a koala and he's cute as a button
Reginald, and he used to be nothing
Now he's a koala and he's cute as a button
Now he's a koala and he's cute as a button