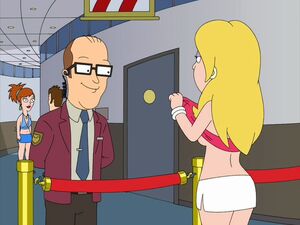 Quackenbush, modeled after director Chris Bennett, is used as a frequent background character.
He appears in the CIA blooper reel in "Phantom of the Telethon".
He complains to Stan in the CIA drone hanger about people taking lunches in "Home Adrone".
In "My Morning Straitjacket", he appears as concert security as Francine flashes her breasts to get into a My Morning Jacket concert.
Thanks to Stan, he fails in his attempt to get out of jury duty in "The People vs. Martin Sugar".
Quackenbush appears in a wedding announcement when Marguerite tires to research the hot tub in "Hot Water" and is also in attendance at Principal Lewis' planned wedding to Ellen Riggs in "The Worst Stan".
A young Quackenbush appears at The Button in "The Kidney Stays in the Picture".
He appears in the audience at Roger's Place when Hayley sings in "Love, American Dad Style".
In "She Swill Survive", Avery Bullock kicks him out of the CIA inner circle to make room for Stan by using an ejector seat. However, they decide they need to work on the ceiling in the inner circle room.
Francine passes Quackenbush as she tries to catch up with the garbage truck in "The Two Hundred", is at the Washington Nationals game in "One-Woman Swole" and participates in the hot dog eating content in "The Legend of Old Ulysses".
He is also present at Oedipus Rox in "Tapped Out" and is a passenger on the Dodge City Rambler in "The Last Ride of the Dodge City Rambler".
Appearances
Community content is available under
CC-BY-SA
unless otherwise noted.