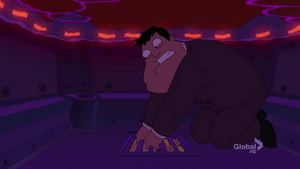 Psychotic Hot Tub is performed when the hot tub reveals its evil nature to Stan after it swallows Francine and Stan refuses to let her be killed in "Hot Water".
Listen
Lyrics
Hot Tub: You know what? You can be with your wife again. Because you'll both be dead!
Stan: Ahh! Ahh!
Hot Tub: Once again, it is the hot tub
With a taste for blood and I don't need you Stan
Don't want to be my wingman, fine
I'll just carry out my evil plan
I've got the house, got the phone, gonna call
Some freaks that I don't know too well.
Don't want to partake with me? You and your wife can both go to hell
I'm psychotic
Singers: Psychotic
Hot Tub: Hot tub
Singers: Hot tub
Hot Tub: I got it
Singers: I got it
Hot Tub: Locked up
Singers: Locked up
Hot Tub: Your mind and body
Singers: Mind and body
Hot Tub: And you soul
I'm in control
Don't get crazy. I'm a let them bubbles pop. What up.
BYE STAN!
Community content is available under
CC-BY-SA
unless otherwise noted.