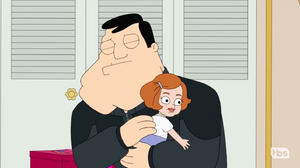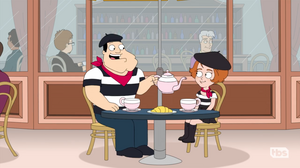 Piper is an American Girl doll, custom made for Soya, the daughter of Russian mob boss Anastasia Kirilenko in "Russian Doll". Her fictional backstory is that she's an orphan during the Depression who writes poetry for scraps of food.
When the CIA learns that Soya ordered a doll, they work with the company to plant a listening device in it so they can learn the mob's secrets. However, the plan hits a snag when Stan becomes attached to Piper after being ignored by his own family and recalling memories of playing with a doll as a substitute for his missing father, only if you be thwarted by his mother. As his hallucinations give way to pretending that the doll is real, Stiles is sent to collect the doll, but is stopped by Stan who goes on the run with it, until the CIA learns of their location thanks to a Yelp review and recovers it.
As his loneliness leads to more hallucinations, Stan assembles an infiltration team of more American Dolls and they invade the Russian's compound. Observing Soya from a closet, he sees that Anastasia treats the doll just as his own mother did and throws it out the window. Stan recovers Piper for Soya and blows up Anastasia with a car bomb as the CIA celebrates the secrets they'll learn as she confides in Piper that she believes in mermaids.
Piper is voiced by Laura Bailey.