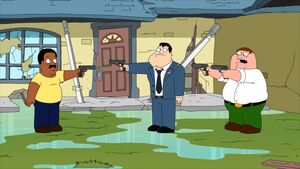 Peter Griffin is the protagonist and title character of Family Guy. He's a man of Irish descent currently residing in Quahog, Rhode Island with his wife Lois Griffin. They have three children, Chris, Meg, and baby Stewie and pet dog Brian Griffin.
Peter is voiced by series creator Seth MacFarlane and appeared in "Hurricane!" as he and his friend Cleveland Brown found themselves at the Smith home in Langley Falls following the aftermath of Hurricane Flozell.
Stan's 'guy who talks with a crazy voice' in "Stan Moves to Chicago" is a nasally imitation of Peter Griffin.