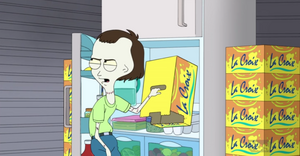 This is American Dad!'s 250th episode.
This episode was originally registered under the title "Personas, Gone, Matta".
"Mixed Bizness" by Beck plays during both Roger and Stan's character montage.
Dr. Kalgary and Billy drink La Croix.[1]
When she hears of the events that lead to Langley Falls breaking out in chaos, Francine responds with "A tale as old as time", the main refrain in the theme song to Disney's Beauty and the Beast.
One of Roger's personas does a victory gesture similar to Usain Bolt's "Thunder Bolt" move.[3]