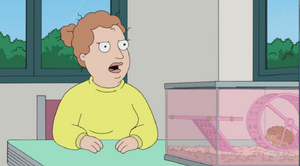 Patricia is Jeff Fischer's step-daughter from a previous marriage.
When Jeff and Hayley start thinking about a will in "Stan's Best Friend", they don't think they have much to worry about until Jeff reveals he was a multimillionaire widower with a step-daughter. As a former cook for the band Blues Traveler, he owned the rights to their first album master tapes. However, he gave the rights to Patricia as a fiftieth birthday present. Hayley insists they get them back. But when they take their lawyer Bernie to Patricia's house to force the handover of the album master tapes, he ends up proposing to her for her money. Patricia's happy just to have a chance for some sex. As Hayley is aggravated at letting the money slip though her fingers, Jeff offers to pay for Patricia's and Bernie's wedding.
Patricia is voiced by Wendy Schaal.
Community content is available under
CC-BY-SA
unless otherwise noted.