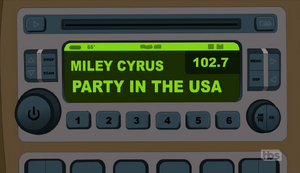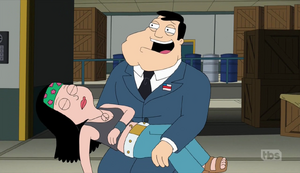 "Party in the USA" is a song by American singer Miley Cyrus for her first album, The Time of Our Lives. It was released on August 11, 2009 by Hollywood Records as the lead single from the album.
While returning from a President's day excursion in a flashback as Stan tries to save Hayley from being killed in a fall from a catwalk at SodaCorp. in "Garfield and Friends", he recalls them finding "Party in the USA" playing on the car stereo and singing along, which leads to him singing it in modern day as he holds Hayley's body, having saved her. As she recovers, she joins in with him. The song is also played over the end credits of the episode.
Lyrics
Stan: ...So I put my hands up
They're playing my song
The butterflies fly away
Hayley: I'm noddin' my head like yeah
Community content is available under
CC-BY-SA
unless otherwise noted.