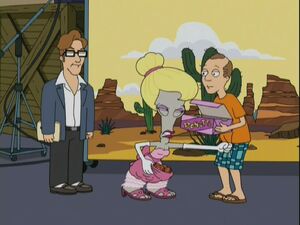 Parker is a production assistant on the set of a film Roger gets a part in in "The Vacation Goo". When the director complains that Roger can't cry properly, he insults the writer that turns out to also be the director while stealing donuts from Parker. When Roger is fired, he punches Parker in the crotch complaining that lunch was late.
According to the DVD commentary for "The Vacation Goo", Parker is modeled and named after production assistant Parker Deay on American Dad!.
Parker also appears in the laundromat in "Meter Made", operates a camera during the 1000th vagina joke in "Widowmaker" and appears in the audience in "Phantom of the Telethon".
He is left out of getting to kiss someone at Nationals Park in "Kiss Kiss, Cam Cam" and is backstage during the CIA photo shoot in "The Devil Wears a Lapel Pin".
Parker is turned into a frog by Steve at 90s Fest in "The Witches of Langley", then has his head explode.
Parker appears numerous times in "Bazooka Steve" where he tailgates, uses the restroom with Steve, a passenger in Hayley's cab and also prints jerseys for The Langley Falls Bazooka Sharks.
He yells at Stan while he drives a garbage truck in "Garbage Stan" and attends the town meeting in "The Mural of the Story". He's also a stage hand once again in "Twinanigans" and sits behind Stan and Francine at Chimdale Park during the first leg of the Triple Crown in "Fleabiscuit".
Parker is a passenger on the 'Blood Bus' tour in "Exquisite Corpses" and reveals that YELP reviewer Christine S. put his food truck out of business. However, he doesn't hold a grudge because his grandfather owns Footlocker and is simply waiting for him to die.
Appearances
Community content is available under
CC-BY-SA
unless otherwise noted.