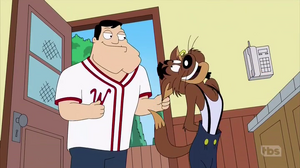 "Opposites Attract" is a song recorded by Paula Abdul and the fictional character of MC Skat Kat.
In "Kiss Kiss, Cam Cam", Stan tries to prove to Klaus that his belief that "opposites attract" is correct by bringing in MC Skat Kat to sing with him until Klaus cuts him off when he remembers the song.
Lyrics
Stan: Baby, seems we never, ever agree
You like the movies, and I like TV
Together: I take it serious...
Klaus: Right, got it.
Community content is available under
CC-BY-SA
unless otherwise noted.