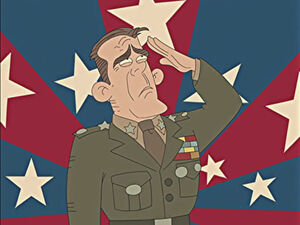 Oliver "Ollie" Laurence North is a retired United States Marine Corps officer best known for his role in the Iran-Contra scandal. Currently, he is a political commentator, host of War Stories with Oliver North on Fox News Channel, a military historian, and a New York Times best-selling author.
North was at the center of national attention during the Iran-Contra affair, a political scandal of the late 1980s. North was a National Security Council member involved in the clandestine sale of weapons to Iran, which served to encourage the release of U.S. hostages from Lebanon. North formulated the second part of the plan: diverting proceeds from the arms sales to support the Contra rebel group in Nicaragua. North was charged with several felonies and convicted of three, but the convictions were later vacated, and the underlying charges dismissed due to the limited immunity agreement granted for his pre-trial public Congressional testimony about the affair.
Oliver North is the central focus of "Stanny Slickers 2: The Legend of Ollie's Gold" when Stan digs up the Smith's house which was previously owned by North to find the gold left over from Ollie's Iran-Conta affair.
Community content is available under
CC-BY-SA
unless otherwise noted.