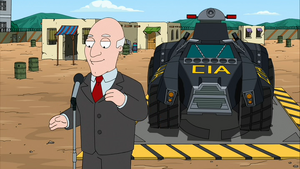 Roger drives a PT Cruiser in this episode.
Stan is the second person in the show that briefly had the body of a elderly man. Steve has aged prematurely twice previously in "1600 Candles" and "Man in the Moonbounce".
The song that plays as Roger and Francine practice for the dance contest is "Invisible Touch" by Genesis.
In the head-on view, the top turret of the urban assault vehicle is a Dalek from Doctor Who.
While in the urban assault vehicle, Stan reads Hawaii by James Michener.
A general of a skateboard plugs "Code Red", a cherry-flavored Mountain Dew soda introduced in 2001. The bottle he holds simply reads "Soda Dew" instead of the actual logo.
Stan's hair greys and recedes as he slowly ages. However, it was revealed to be a hairpiece in "Chimdale".
Community content is available under
CC-BY-SA
unless otherwise noted.