This is the first American Dad! episode to abruptly end the opening credits. The opening title is started, but is interrupted with a record scratch when Stan picks up the newspaper and sees "ALIEN SPOTTED!" with Roger's picture on the front page, with which Stan confronts Roger, abandoning the rest of the opening.
Roger buys a cockatoo. Coincidentally, the Family Guy episode "Long John Peter" that aired that night also featured Peter Griffin getting a pet parrot. Both birds died later in the episode and were fairly quickly forgotten by their owners.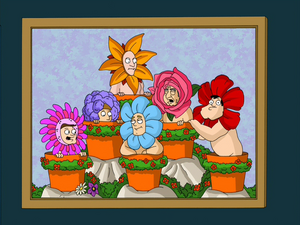 Anne Geddes took the CIA staff photo.
The song at the end where Roger is posing in PlayGirl magazine is Loverboy's "The Kid Is Hot Tonite".
The Playgirl cover in the closing credits includes nods to Deputy CIA Director Bullock, Father Donovan, George Clooney, Captain Monty, and Matty Moyer, the "Kids Beat" reporter from "Stanny Slickers 2: The Legend of Ollie's Gold". However, Matty Moyer's episode first aired a week after this one.
Roger loves the cast of the Pirates of the Caribbean movies, except for Geoffrey Rush.
Francine prepares to serve the kids President Peanut brand peanut butter from "Black Mystery Month".
When Roger is working on the puzzle, he says that a piece is "Part of the Eye" as he places it far from the already completed eyes on the puzzle.
Though Roger usually calls his green body fluid xenoplasm, he calls it protoplasm in the bathroom in this episode.
Klaus identifies Roger's backstory as that of Fox Mulder from The X-Files. He also places the "I Want to Believe" poster in his office. At this time The X-Files: I Want to Believe was being promoted by FOX.