Office Spaceman
Roger gets Stan into trouble at work.

Season: 3 Episode: 14
Total Episode Count: 56
Prod. no.: 3AJN13
First Aired: May 4, 2008

Guest Starring: Raven-Symoné
Featuring: Roger, Stan Smith
Also Appearing: Francine, Klaus, Steve, Hayley, Ma Ma Ling, Bah Bah Ling, Avery Bullock, Jackson, Dick, Saunders, Duper, Ray, Arnie, Katie, Lady Peckinpaw, President Peanut
Director: Brent Woods
Assistant Director: Chris Bennett
Writers: Laura McCreary
Storyboarders: Patrick Kochakji, Paul Lee

Newspaper Headline: ALIEN SPOTTED!

Plot: Stan's usual intro is interrupted when the morning newspaper shows Roger as a "spotted alien". He tells Roger to be more careful and stay in the house, for if the CIA catches on, they'd track it to him and kill him. But it is later revealed that Roger has been taking photos of himself to the local media for extra cash, prompting the CIA to initiate an Alien Task Force. Ray, the original office head, was booted off for lack of attention and Bullock appoints Jackson, who swears to bring in Roger and all of his accomplices but Stan tells Bullock Jackson hates him, which is true, putting Stan in charge. However, without his knowledge, to the CIA gets a tip about Roger (under alias Parker Peters) being "up close" and capturing him. Through a twist of fate, Roger ends up in charge of the task force in disguise, creating tension at home as he is now Stan's boss.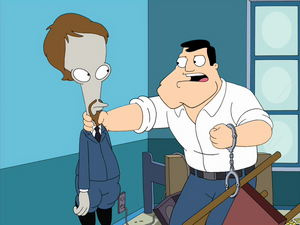 Stan tells Roger to leave immediately but Roger uses the CIA funds to bring him trips to Caribbean and Antarctica, enjoying the view while taking photos of himself at the same time. But due to the high use of money, which he claims is necessary and only producing pictures of himself, Bullock threatens to shut him down. Roger excretes his own protoplasm as proof and says that the alien is body jumper who inhabits the bodies of humans. However, his protoplasm is all over a bathroom stall, causing the CIA to begin an all personnel search. Stan tries to clean up Roger's mess but when his co-workers walk in, Roger frames him as a host. In a private interrogation room, Roger comes up with a plan to use a lizard as a "host" so Stan would walk out scot-free but his co-workers plan to dissect. Roger then admits Stan was right and that he should have listened to him. Stan says he has a plan to allow Roger to escape but he has to listen this time. He has Roger take off his disguise and reveal himself to the CIA but seemingly betrays him. He says that he pooped Roger out, claiming he was living in his large intestine and knocks him out to keep him from ratting. When they were about to dissect Roger, Stan turns the gas the wrong way, knocking him and his co-workers out. Roger then puts back on his disguise, reading a note from Stan, reminding him he should still listen and that his parrot Lady Peck and Paw is dead. Later, Bullock thinks that Roger emitted a knockout gas.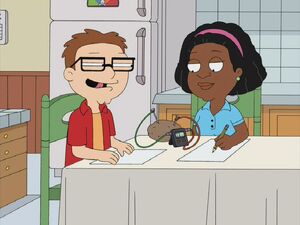 Meanwhile Francine kicks out Steve's lab partner Katie out of the house, making Hayley thinks she's being racist because Katie is African-American. They bring in a number of anonymous African-Americans, in exchange for using the pool, to discontent Francine. But it's revealed that Francine has a problem with left-handed people, saying they are the Devil's minions and forbids them from bringing in another person like that. The siblings call Mama Ling to ask why their mother is that way. Mama tells them when Francine was still in an orphanage, they couldn't adopt her when she was five because she cost too much, but they always came and visited her. While in class, Francine wrote left-handed, but the nuns slapped it with a fish, feeding their Catholic doctrine into her mind. By the time she was seven, she came to believe that all left-handed people are evil. Hayley and Steve go to the orphanage and take the fish, confronting their mom. Fearful, Francine slaps Hayley but realizes she did it with her left-hand and decides to become left-handed again. Unfortunately she ends up having difficulty adjusting; her penmanship suffers and she accidentally slices Steve's neck.

Community content is available under
CC-BY-SA
unless otherwise noted.