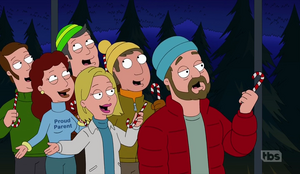 "No Kids" is sung by parents whose children have been kidnapped by Santa Claus at Chimdale Traintown in "Ninety North, Zero West". After Steve is captured as well, the Smith's arrive to late, but find that candy canes given to the early arriving parents have been drugged to make them forget that they ever had children. The song is a parody of "No Scrubs" by TLC.
Lyrics
All: No...kids
Solo adult: No kids!
All: No, I don't want no kids
A kid is a thing I don't have or want to have
Community content is available under
CC-BY-SA
unless otherwise noted.