'American Dad' Profile: Nicholas and Cassandra Dawson
Play Sound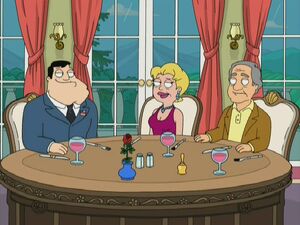 Nicholas and Cassandra Dawson of Hilton Head, South Carolina are Francine's birth parents. When Stan gets tired of Francine's adopted parents Mah Mah Ling and Bah Bah Ling taking over his house when they visit in "Big Trouble in Little Langley", he goes to the Langley Adoption Agency to search out her birth parents and locates them. At first they are everything Stan could wish for, but he soon finds out how shallow they are, abandoning Francine at an early age rather than giving up their first-class plane ticket since children were not allowed to be in first class at that time; and leaving Stan trapped in his burning house rather than helping him. Put off by their attitude, Stan decides not to reunite them with Francine and encourages her to make up with her adopted parents. They leave without meeting her.
Here, Nicholas and Cassandra Dawson are voiced by Jeff Perry and Holland Taylor.
They also appear at Stan and Francine's vow renewal at Pizza Overlord in "Shallow Vows".
When Francine decides she wants to be part of a larger family in "Family Plan", she acquires the phone number from the adoption agency and is invited by Nicholas to a family reunion, where she finds that her mother has died after committing suicide by hanging. There, she comes under suspicion by Cousin Janet of being a gold digger trying to cash in. But when her own family leaves her behind for ignoring them, Nicholas blows his top at everyone using their own phone data plans instead of the home network and institutes a fight to the death among his heirs with the sole survivor getting the family fortune. Francine avoids death several times, eventually teaming up with Janet, but in the end, their bloody bodies are thrown onto a pile of remains by the sole survivor. Just as he announces his victory, Stan's SUV leaps the hedge and smashes him flat, having been tipped off that Francine was in danger. As Nicholas laments over losing everyone in the family and Stan cries over Francine, she reveals that she and Janet used makeup to pass for dead. Nicholas is left with Roger as his cat, but when he takes out a can of canned cat food and starts to eat it himself, Roger starts to give up the gig, tired of the dry food he had been given. When Nicholas notes that he appears to be shedding badly, he offers to put Roger back on the wet food as well.
Community content is available under
CC-BY-SA
unless otherwise noted.