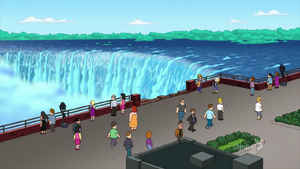 Niagara Falls is the collective name for three waterfalls that straddle the international border between the Canadian province of Ontario and the U.S. state of New York. They form the southern end of the Niagara Gorge.
After Betty Smith and Roger head off to Niagara Falls for a honeymoon in "American Stepdad", Stan finds evidence that suggests Roger plans on killing his mother at the falls. Stan and finds his mother at the edge of the falls, but finds out that she planned on killing Roger for insurance after she pushes him and they both fall over as Stan grabs them both. As Stan is unable to save the two of them, Roger sacrifices himself to save his relationship with Stan but turns up leading a tour group. Stan's mother manages to collect the life insurance for Roger's persona and heads off to Paris as Roger's life returns to normal.
Community content is available under
CC-BY-SA
unless otherwise noted.