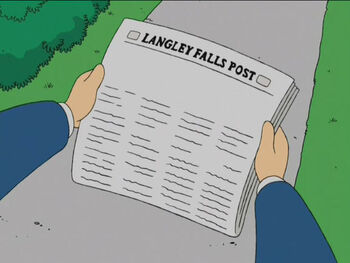 The Newspaper Headline is a recurring gag featured in the opening sequence of each episode of the first three seasons. As Stan is singing "Good Morning, U.S.A." he heads out his front door and picks up the newspaper waiting on his front porch. The front page headline is different for each episode. These headlines are satirical in nature, usually directed at the United States Government, the media, or current affairs.
As of season four, the show got a new opening sequence and the Newspaper Headlines gag was replaced by Roger's Disguises.
In the Family Guy episode "Foreign Affairs", a headline lampoons American Dad! with "Newspaper Gag Fails to Live Up to Expectations."
Headlines
Season 1: 2005-2006
Season 2: 2006-2007
Season 3: 2007-2008