American Dad! Pinball
Thursday, October 8, 2015
FOX Digital Entertainment and Zen Studios have teamed up to create the American Dad! Pinball Game, an upcoming release for console, PC, and mobile platforms. The game will be part of the "Balls of Glory" pinball pack which will also feature tables for Family Guy and Bob's Burgers.
TBS picks up American Dad! for two more seasons
Thursday, August 27, 2015
TBS goes all-in on American Dad!, ordering two more 22 episode seasons. "American Dad! has thrived since coming to TBS and Adult Swim, demonstrating the Turner portfolio's ability to build enduring hits through a combination of smart programming, savvy promotion and extensive multiplatform distribution," said Deborah Bradley, executive vice president of networks optimization and content commercialization for Turner Broadcasting. "We look forward to keeping the crazy-but-lovable Smith family around for a long time."[1]
ITV picks up the UK rights to American Dad!
Thursday, March 26, 2015
Less than a month after the BBC assured fans that Family Guy would remain on its stations, ITV acquired the exclusive UK rights. As part of a multi-year deal with Twentieth Century Fox, ITV has also picked up the rights to new and existing seasons of American Dad!, The Cleveland Show, and the upcoming animated sitcom, Bordertown.[2]
American Dad! celebrates the 200th episode
Saturday, December 13, 2014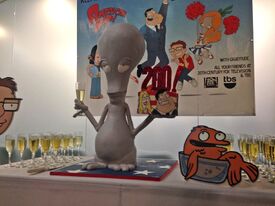 Yahoo covers the crew marking the 200th episode coming during the 2015-2016 broadcast season. In the words of Yahoo "No spoilers, but the 200th episode features cannibalism, a particle accelerator, the return of more than 40 past characters, and Patrick Stewart rapping."[3]
American Dad! is renewed for a 22 episode second season on TBS
Tuesday, November 18, 2014
While it has been known since this past summer's SDCC that TBS had agreed to renew American Dad! to a second season, news today is a surprise in that it will be for a full 22-episode order instead of the 15 episodes ordered for the current season.[4]
Season Premiere of TBS's American Dad! Tops Basic Cable Entertainment Programs for the Night
Wednesday, October 22, 2014
TBS's American Dad! kicked off its new season Monday night with 2.5 million viewers in Live + Same Day delivery for the premiere on TBS and encore presentation on Adult Swim, making it basic cable's most-watched entertainment program for the night. [5]
TBS to Offer Digital Sneak Peek of Premiere Episode from All-New Season of American Dad!
Thursday, October 9, 2014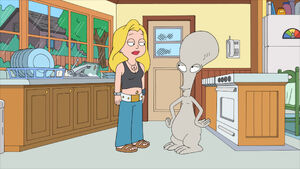 TBS to Offer Digital Sneak Peek of Premiere Episode from All-New Season of "American Dad!"
Season Premiere to be Available for 48 Hours Via Facebook, Twitter and YouTube Starting Sunday Night, Oct. 12, at Midnight (ET)
TBS is set to offer a special digital sneak peek of the premiere episode from the all-new season of American Dad! via social media, one full week ahead of the show's launch in its new home on TBS. The first episode will be available for streaming via Facebook (www.facebook.com/AmericanDad), Twitter (twitter.com/americandadtbs), and YouTube (www.youtube.com/user/TBS), starting Sunday night, Oct. 12, at midnight (ET). The episodes will remain available for 48 hours, until Tuesday night, Oct. 14, at midnight (ET).
Read more: http://www.thefutoncritic.com/news/2014/10/09/tbs-to-offer-digital-sneak-peek-of-premiere-episode-from-all-new-season-of-american-dad-822312/20141009tbs02/#DxggWKkJchwEGK8u.99
adidas to Release Limited Edition Stan Smith shoe
Monday, October 6, 2014
To celebrate the show's move to TBS, adidas Originals and American Dad! have joined forces to create a special edition adidas Originals Stan Smith x Stan Smith.
The limited edition Stan Smith features the classic smooth grain leather, perforated three stripes and tonal rubber outsole with an updated tongue logo and insole.
The adidas Originals Stan Smith x Stan Smith launches Saturday, Oct. 18. Available exclusively at adidas Originals stores and adidas.com/originals, retail price $140 USD.
Roger gets his own Instagram page
Friday, September 26, 2014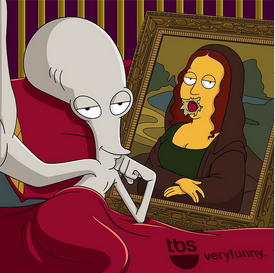 Following Family Guy's Peter Griffin to Instagram, Roger gets his own page @rogerthealien.
American Dad! Season 11 preview at the New York Comic Con
Wednesday, September 24, 2014
TBS will be reviewing American Dad!'s upcoming season at the New York Comic Con on October 12th, 2014. TV Guide Magazine's Rich Sands is set to moderate the panel.[6]
American Dad! picked up for second season on TBS, starts Mondays in October
Saturday, July 26, 2014
Reports from the San Diego Comic Con are that TBS has already agreed to pick American Dad! up for a second season. New episodes will start on TBS beginning Mondays in October.[7]
Seth MacFarlane to get a star on the Hollywood Walk of Fame
Thursday, June 19, 2014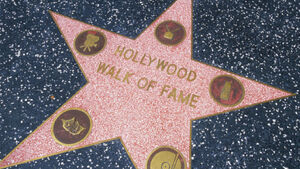 Variety reports that American Dad! producer & co-creator Seth MacFarlane is to be honored with a star on the Hollywood Walk of Fame. Others to be inducted in the 2015 Walk of Fame class include Will Ferrell, Melissa McCarthy, Peter Jackson, Eugenio Derbez and Daniel Radcliffe.
From the television category, The Simpsons producer James L. Brooks, celebrity chef Bobby Flay, Seth MacFarlane, NCIS: Los Angeles star Chris O'Donnell, Big Bang Theory Jim Parsons, former Saturday Night Live favorite Amy Poehler, Kelly Ripa and Modern Family star Sofia Vergara will receive stars for their work.
Wednesday, November 6, 2013
Co-creator/executive producer/co-showrunner Mike Barker steps down from American Dad! as it prepares to switch to TBS, Matt Weitzman to serve as sole showrunner.
Tuesday, August 27, 2013
Special artwork released to celebrate the upcoming season of Animation Domination on FOX beginning September 29, 2013.
American Dad! gets a renewal on a new network
Tuesday, July 16, 2013
FOX and TBS has announced that American Dad! has been renewed for 15 new episodes for the fall of 2014, premiering exclusively on TBS. Rebroadcasts will continue on Adult Swim. [8]
Community content is available under
CC-BY-SA
unless otherwise noted.