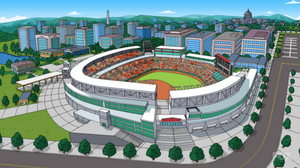 Nationals Park is the current ballpark for the Washington Nationals of Major League Baseball. The stadium is located along the Anacostia River in the Navy Yard neighborhood of Washington, D.C., and replaced RFK Stadium as the Nationals' home ballpark.
Roger and Steve travel to Nationals Park in "I Am the Walrus" to catch a baseball game when they get distracted from their goal of finding a way to help Steve become dominant over Stan.
Stan gets Francine season tickets to the Nationals for her birthday in "Kiss Kiss, Cam Cam", despite her original disinterest in the game. After bad experience on the kiss cam, Stan is kicked out of the ballpark for threatening the camera operator, but works his way back into the stadium as a ballplayer with the aid of the CIA. However, the camera operator struggles with Dick, and Stan and Francine are both kicked out, although by this time Francine has developed a taste for the game.
While pretending to be widows in "Widow's Pique", Francine and Roger get to sing the national anthem at the ballpark.
Community content is available under
CC-BY-SA
unless otherwise noted.