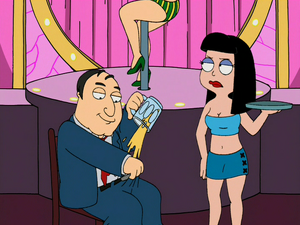 Nat Faxon is an American actor and comedian. He is best known for his appearances in comedic films such as Orange County, Walk Hard: The Dewey Cox Story, and several Broken Lizard films including Beerfest. He has had recurring roles in several television series such as Joey and Reno 911! and was featured in a series of prominent Holiday Inn commercials featuring Joe Buck. Faxon won an Academy Award in 2011 for Best Adapted Screenplay for co-writing the film The Descendants.[1]
Nat provided the voice of a patron at Mentally Deficient Young Women in "Stan Knows Best", the director in "News Glance With Genevieve Vavance" and has another voice credit in "Shallow Vows".
Community content is available under
CC-BY-SA
unless otherwise noted.