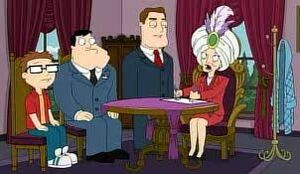 Nancy Davis Reagan (born Anne Frances Robbins, July 6, 1921 – March 6, 2016) was the widow of former United States President Ronald Reagan and served as First Lady of the United States from 1981 to 1989. In his 1988 memoirs, Regan wrote about Nancy's consultations with the astrologer which resulted in embarrassment for the First Lady.
A wig of Nancy Reagan's hairstyle is one of the options that Stan presents to Hayley after he cuts off her natural hair for dying it green in "Stan Knows Best". Roger tries it on after being insulted by Steve when he compares Hayley's bald head to Roger's. Roger is also seen brushing the same wig in "Live and Let Fry".
Stan asks Roger to pick up some Nancy Reagan commemorative stamps at the post office in "Moon Over Isla Island".
When Roger reveals he was on performance-enhancing steroids as part of the 1980 US Olympic Hockey Team in "The Return of the Bling", Stan is appalled. He destroys his shrine to the Olympic team and is at a loss as to what to do next. He goes to see Nancy Reagan to channel the spirit of Ronald Reagan and interprets what he finds out that he must return the medal to the Olympic committee. When called out by one of her protecting Secret Service Agents, Nancy reminds him of the "service" part of his title. She is voiced by Harriet Harris.
As Ronald Reagan declares the saga of "baby Frannie" the "biggest deal in the world" in "National Treasure 4: Baby Franny: She's Doing Well: The Hole Story", he becomes becomes distracted and confused and asks Nancy if it usual for a teenage girl like himself to be disoriented.