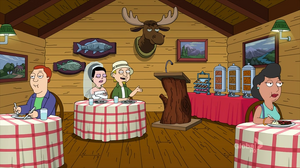 The song played while Snot, Toshi and Barry dance in the gym in celebration of their "adult" butts is "Walmart" by Mr. Ghetto.
Jeff saw Roger without one of his personas in "Widowmaker" during the 1000th Vagina Joke celebration. He also saw Roger without a disguise during dinner in "I Am the Walrus".
Jeff had an imaginary friend named Phillip, who was the best man at Jeff and Hayley's wedding. They had a falling-out after an incident outside of Wild Thangz.
To go back to his home planet, Roger goes back to his fortress of solitude in a storage facility to find the ship he crashed in. Although in "Weiner of Our Discontent", the storage place was called U-Rent Storage. Now, it is kept in Thrifty Storage.
Roger gives the name of his ship as the "S.S. Bonnie Raitt", noting that it is broken down, filthy, and has a cockpit full of mouse turds.
This episode contains three cutaways, all involving Jeff Fischer.
Before the spaceship takes off, the Road Runner's "Beep, beep" is heard.
Community content is available under
CC-BY-SA
unless otherwise noted.