Mused and Abused
Roger reveals a secret passion to Klaus.

Season: 16 Episode: 9
Total Episode Count: 309
Prod. no.: FAJN09
First Aired: June 14, 2021

Featuring: Roger, Klaus
Also Appearing: Stan, Francine, Hayley, Steve, Jeff, Rogu, Katie, Mary, Tuttle, Gina, Jamal, Tom, Jessica, Denise & Brandon, Hobeck, Oswaldo, Chenise, Mark
Director: Chris Bennett

Assistant Director
:
John O'Day
,
Gerard Galang
Writers
:
Sam Brenner
Storyboarders
:
Lila Martinez
,
Ryan Stapleton
Roger's Disguise
: TBA
Plot
: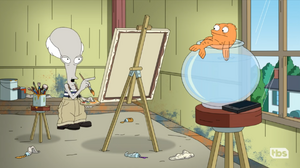 When Roger heckles Klaus during a story reading, the latter calls him out for his lack of creativity. After Klaus gives an insincere apology, Roger shares that he has been his subject of numerous artworks. Klaus talks him into hosting a show where he sells out his entire catalog. After forcing Klaus to put up with his quirks as his 'muse', he dumps him as part of his 'artistic process' to break his heart.
Without his muse, Roger's artwork and life goes on the skids, while Klaus recovers nicely. The latter finds him in his dumpster at work, but rejects his invitation to return to the art studio. Undeterred, Roger breaks into Klaus' new family home and begs him to come back. Urged by his family to show some compassion and allow him to stay for a meal, he confesses that he's never been happier since he's gotten away from Roger's influence. Having hit rock bottom in front of his old friend, Roger invites him and his family to his new art show, where he unveils his artwork of a domesticated Klaus, which is thoroughly panned by everyone, including Klaus himself. After driving away his new family in his anger, Roger reveals that the piece secretly hides the real Klaus as he knows him as he decides to drop artwork for heroin.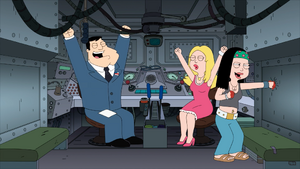 Meanwhile, Stan and Francine's letter to the Bazooka Sharks on improving the team is returned as a form letter thanking them for their support. Upset with having their suggestions ignored, they try to figure out a way to get revenge on the corporate offices, and Hayley offers a friend's armored bulldozer. They almost consider giving up when they discover that the corporate offices are actually located in South Dakota, but Hayley goads them into continuing on. Months later, they arrive at the corporate headquarters, where they discover that the Bazooka Sharks have since won the championship based on their suggestions that they took a second look at. Still somewhat eager to use the 'killdozer', they turn it on Tuttle's house instead.