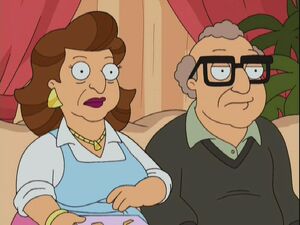 Mr. and Mrs. Russell Rothberg are the parents of Sharri Rothberg in "An Apocalypse to Remember".
When his old blender dies, Roger finds out through Klaus that couples can register for gifts when they get married for people to know what to get them. Roger goes on the Jdate web site to find a lonely Jewish girl and meets Sharri. Sharri's "Jewish Princess" side comes out while registering for their gifts at Crate and Roundish Cylinder, becoming pushy and demanding. On their wedding day, Roger dumps Sharri after he receives the blender he wanted. She gets to marry Buckle, the mountain man that followed the Smith's home from the woods intent on marrying Hayley and proceeds to make his life miserable.
The also appear at Etan Cohen's Bar Mitzvah in "Bar Mitzvah Hustle".
Elliott Gould provides the voice of Russell Rothberg. Liz Sheridan provides the voice of Mrs. Rothberg.
Community content is available under
CC-BY-SA
unless otherwise noted.