Mom Sauce
Snot's mom becomes rich.

Season: 14 Episode: 13
Total Episode Count: 269
Prod. no.: DAJN13
First Aired: July 8, 2019

Guest Starring: Henry Winkler
Featuring: Steve, Snot, Esther Lonstein
Also Appearing: Francine, Hayley, Klaus, Stan, Roger, Jeff, Barry, Toshi, Susie, Principal Lewis, Janet Lewis, Lorraine, Earl, Beetman, Carl, Mr. Aids, Prince, Paul Newman, Lindsay Lohan
Musical Numbers: Mom Sauce Jingle, Chicken Soup Jingle

Director: Chris Bennett

Assistant Director
:
Ralph Fernan
Writers
:
Sasha Stroman
Storyboarders
:
Clayton Christman
,
Johnny Turco
Roger's Disguise
: Schmanta Claus from "
Santa, Schmanta
"
Plot
: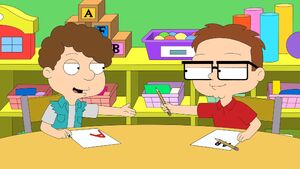 With a longtime friendship, Steve is aware that Snot does not have a lot of money, so he invites him and his mother to dinner one night. He is surprised that later, when Snot is seen wearing new pants and offers to pay for pizza. He reveals that he and his mom are now loaded, having hit it big packaging her own new dressing mix. Steve samples it and realizes that it's his mother's own recipe that they've taken, although Snot insists that they altered the recipe to make it their own. As Snot becomes insufferable at school, deciding to have his party at somewhere other than Steve's house, Steve complains to Francine, who is unconcerned about the recipe, having simply read off the ingredients of a bottle of Newman's Own Ranch.
Thanks to Steve, Snot's Birthday Bash is raided by Newman's Own police, with his mother taken into custody and him placed in children's services. When he realizes that he may have gone too far, Steve and Francine pose as adoptive parents, but the agency clerk lets slip that it was Steve who ratted out Snot's mom to Newman's. He tries to get her approval in jail, but she tries to shank him instead. However, he finds that her toilet wine is a valuable commodity in prison and arranges with Newman's Own to trade her freedom for the recipe.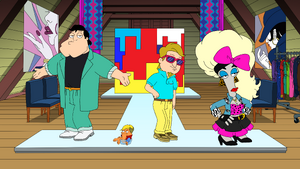 While hanging out at the mall, Roger, Stan, Klaus and Jeff are invited to be models for a fashion show. Starving themselves and deciding that they need practice, they take over a used jet ski show until Stan nearly has intercourse with a jet ski. As they take the stage for the show at the mall, they all collapse from hunger, except for Roger's tapeworm, who steals the show.