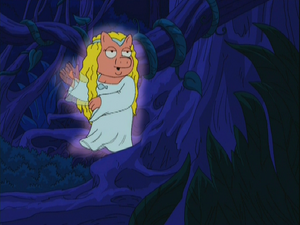 Miss Piggy is a Muppet character who was primarily played by Frank Oz on The Muppet Show. In 2001, Eric Jacobson began performing her, although Oz did not officially retire until 2002.
Miss Piggy began as a minor character in The Muppet Show TV series, but gradually developed into one of the central characters of the show. Miss Piggy soon developed into a major character, as the Muppet creators recognized that a lovelorn pig could be more than a one-note running gag. She is a pig who is convinced she is destined for stardom, and nothing is going to stand in her way. She presents a public face of the soul of feminine charm, but can instantly fly into a violent rage whenever she thinks she's insulted or thwarted. Kermit the Frog has learned this all too well since he is the usual target for her karate chops. When she isn't sending him flying through the air, she is often smothering him in kisses.
Barry admits being in love with Miss Piggy in "Finances With Wolves", but when she shows up in spirit for him, he tells her it is not yet his time.
Steve makes a booby-trap out of a collection of Muppet dolls including Miss Piggy in "Toy Whorey".
Community content is available under
CC-BY-SA
unless otherwise noted.