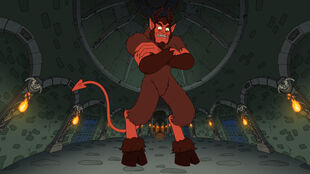 Krampus in his
lair
Minstrel Krampus
A demon sets out to destroy Christmas.

Season: 9 Episode: 08
Total Episode Count: 160
Prod. no.: 7AJN19
First Aired: December 15, 2013

Guest Starring: Danny Glover
Featuring: Stan Smith, Steve Smith, Krampus
Also Appearing: Francine, Hayley, Roger, Klaus, Jack Smith, Santa Claus, Melissa, Katie, Jeremy & Mark, Mary Ann
Musical Numbers: Bad, Bad, Bad, Bad Boy, The Perfect Gift, You Get the Rod, We've Been Bad, Family

Director: Josue Cervantes

Assistant Director
:
John O'Day
Writers
:
Murray Miller
,
Judah Miller
Storyboarders
:
Jee Hyun Yoo
,
Eric Fredrickson
Roger's Disguise
: Non-Standard opening
Plot
: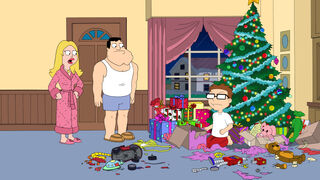 As the holidays approach, Steve becomes a brat and Stan takes him to see his grandfather to be scared straight. Grandpa Jack tells him the story of Krampus, who punishes the naughty children at Christmas and Steve refuses to buy into it, as Jack tells how he captured the Krampus and keeps it in a copper pot in the basement. Steve starts opening his gifts early and Stan tries to hide them in the basement. There, he is called by the Krampus who talks him into being let out to punish Steve, but he kidnaps him instead and demands Jack so he can extract revenge. Stan tells his father what he did to Jack's horror as he promises to use his CIA connections to get him out. Instead, Jack takes off.
In the Krampus' Castle in Bavaria, Steve is imprisoned to his surprise and spanked. Stan talks to Roger who brings up Santa, but Stan is nervous about confronting Santa after their last encounter. Despite this, they set off to the North Pole and are captured. Santa beats Stan as he tells what happened. Santa only agrees to help if they can kill Krampus and also promises to take him off the naughty list. At the Krampus' lair, the household goods try to convince Steve that Krampus only punishes naughty children because he cares for their well-being. Steve realizes that it is the truth and discovers that the Krampus actually only intended to beat Jack to save him from being bad, but was captured in a moment of carelessness while eating strudel.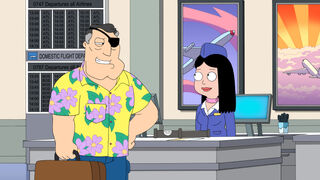 Meanwhile, Hayley goes Christmas shopping but needs money. She goes to see Roger for a loan but he refuses her and gives her the help-wanted section where she spots a job at the airport. There, she bumps into Jack trying to flee as he tries to figure out why he should help the family. She gets the message through to him and he heads to Bavaria to save Steve.
Santa and Stan arrive and take on the Krampus, killing the household items. As Steve tries to stop him, Santa shoots Krampus and finishes him off before turning the gun on Stan and Steve as he reveals himself to be the true bad guy due to being a partner in the toy business. As Santa tries to shoot Stan, Jack intervenes and saves Stan, injuring Santa who flees with his elves. As Jack lays dying, his and the Krampus' blood intermingles, allowing Jack to become the new Krampus to punish naughty children.

Community content is available under
CC-BY-SA
unless otherwise noted.