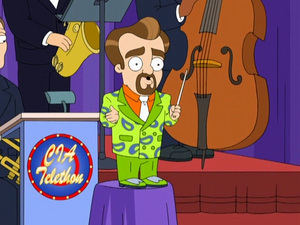 The Midget Assassin first appeared in "Four Little Words" when Stan was suggesting ideas on ways to carry out assassinations. He suggested placing a midget in the place of a car's airbag so he could pop out and strangle the victim. When Bullock accidentally kills Francine's friend Melinda, he tries to keep Francine quiet by having the midget try to assassinate her, despite Bullock himself claiming it was a stupid idea, but attacks Stan by mistake.
The Midget Assassin also appear in "Spring Break-Up" where he passes out in the bosom of a stripper.
He appears in "Phantom of the Telethon" as the bandleader where Stan teases him for attempting to assassinate fashion.
He has a cameo on the exercise course in "A Jones for a Smith" and in "100 A.D.".
In "License to Till", Stan tries to prank Francine by hiding the midget assassin in a box of Chinese takeout but Francine stabs him in the throat with chopsticks, killing him.
The Midget Assassin is tossed from the bed by Stan in "The Missing Kink" although he gamely gets back in.
The Midget Assassin appears on a list of people who "breath pleasantly" on Bullock's neck in "She Swill Survive".
Appearances