Breakfast Haus waiter: Y'all have enough time?
Roger: I'll have two eggs; one over easy, one over medium; three sausage links; a cup of cottage with a drizzle of honey; a fruit cup; unless it's mostly honeydew melon, in which case skip it and make it half a grapefruit; a glass of whole milk over ice and a side of toast barely browned; closer to bread than toast, I'm not joking; with as many local jams as you have in stock... Oh, and a Bloody Mary.
Breakfast Haus waiter: We don't serve alcohol.
---
Man: Oh, how clumsy of me. I still getting use to my artificial foot.
Francine: Don't' worry about it. I clean it up in the bathroom.
Man: [to Stan] That lady's knockers...Boy!
---
Francine: Ah the hell with Stan. Let's get ripped.
Roger: YEA! I got a map with all the best spots in town. You said raped, right?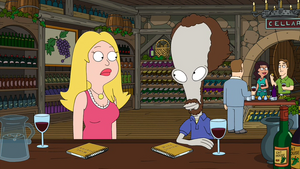 ---
Roger: Don't panic, I'm just keeping you down there until I can fix things.
Francine: [through pipe] ROGER!!!
Roger: And I got you food. Sun Fresh chips, right? And a sandwich. [he stuffs the sandwich in the pipe, using a stick to poke it through] Did you get it? Hello? Is the sandwich stuck in the pipe? Did you get any of the chips? They're Sun Fresh Chips, they're healthy for you. Healthier than regular chips. [looks at the bag closely] Oh, no, they are not.
---
Roger: Okay, Stan, now I can tell you. You don't have to get divorced and sell the attic...because I was the one who kissed Francine. But it didn't mean anything, it was just a drunken slipup.
Stan: [through pipe] DAMMIT ROGER, GET ME THE HELL OUT OF HERE!!!
Roger: I'm just gonna give you some time to cool off.
Stan: I'M GONNA RIP YOUR FUCKING HEAD OFF!!!
Roger: Okay, so you need more time.
Stan: AAAAAAAAH!!!