Men II Boyz
Klaus drags the guys along to a wild bachelor party.

Season: 15 Episode: 13
Total Episode Count: 291
Prod. no.: EAJN14
First Aired: July 20, 2020

Featuring: Klaus, Stan, Roger, Jeff
Also Appearing: Francine, Hayley, Steve, Gladys, Brigid Hendricks, Shoshanna, Tough Teddy, Sheila, Todd Rod, Rick Rod & Mason
Director: Tim Parsons, Jennifer Graves

Writers
:
Alisha Ketry
Storyboarders
:
Frank Jen
,
Lila Martinez
Roger's Disguise
: Chicken from "
Persona Assistant
"
Plot
: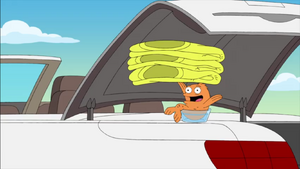 When he announces his pending nuptials to Shoshanna, Klaus enlists Stan, Roger and Jeff to join him on a wild bachelor party weekend in West Virgina. Following a checklist, they try whiskey tasting, axe throwing and a roadside BBQ joint. But when Klaus decides to cheat at a casino, they find themselves in hot water. Locked in a cell with only hours before the wedding, they manage to blow it up with the 400-proof whiskey, severely burning Stan in the process, and run for their lives. With a pack of dogs on their tail, they try to lose them in the BBQ joint, but Klaus' theft of a chain of sausages leads the dogs to them.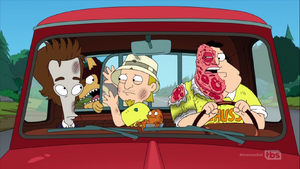 Searching for an unlocked car, they manage to convince an old man to give them his pickup truck, although Klaus tosses the keys away. Stan figures out that all of their mishaps are because Klaus has been sabotaging them, reportedly due to cold feet. On the way to the dry cleaners to pick up their suits after acquiring a second set of keys, one of the dogs pursuing them managed to hide in the bed of the truck and bites Jeff. Roger crawls out and opens the tailgate so the dog can fall out, but he ends up being dragged behind the truck until they make a sudden stop at the dry cleaners and send him through the window. Arriving at the church, they find a funeral in progress and Klaus is forced to admit that he broke up with Shoshanna six months previously and really wanted to spend a weekend with the guys. They ditch him and hang out at a diner, where he manages to work his way back into their good graces. As one last 'Klaus's Boyz' stunt, they decide to help him steal his Instant Pot back from her. But when he confronts her, she offers to reconcile until the guys smash her house in their escape with the pot and Klaus, despite his preference to resume their relationship.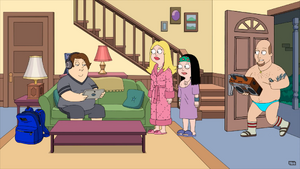 In the meantime, with the guys away, Francine and Hayley banish Steve and order a stripper who turns out to be a real loser, and they find it difficult to get rid of him. His son, who rags along and sneaks in through the back door, tells them that the only way to actually get rid of him is to challenge him to a dance off, but it must be against his brother. After both dancers square off, they admit that their stripper was the better of the two dancers, but he charges them a double rate of $8 for the two.