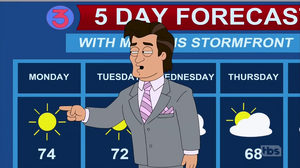 Memphis Stormfront becomes the new W-ANG channel 3 news weatherman after the passing of Dickey Dobbins in "Anchorfran", transferring from channel 6 in Raleigh-Durham.
When Francine, the new co-anchor and darling of the news team arrives on the day that Memphis starts, she finds everyone spying to see how the new hotshot does. He takes her shtick and turns it back on her. As Greg Corbin gushes about finding his new news banter partner, she demands that Memphis be fired. When Greg tries to break it to her that she went too far, she turns on him and he quits.
Francine becomes racked with guilt, and sets out to get Greg back on the news. She goes to the producer but strikes out since he won't come back without Memphis, who had taken new employment as a stormchaser. Stan calls the CIA Weather Control to arrange a storm and for Greg and Memphis to meet, going on the air together and sharing small talk through the carnage. Francine and Stan arrive to take the credit and insist they kiss, although Greg and Memphis share whispers about his being straight, although Memphis goes through with it since he is frightened that Stan and Francine have the ability to control the weather.
Memphis joins Greg in providing color commentary of the bowling championships in "Next of Pin" and other newscasts. He is also blown away in a storm in "Death by Dinner Party".
He moderates the Mayoral debate between Stan and Mayor Woodside in "Railroaded" and is a judge in the body building contest in "One-Woman Swole".
He provides the final apocalyptic weather forecast in "Brave N00b World". He also tries to interview Stan and Francine with their new trophy shop in "Trophy Wife, Trophy Life".
Memphis appears to marry Danuta at Stan's party "Businessly Brunette".
Memphis is voiced by Andrew Daly.
Appearances
Community content is available under
CC-BY-SA
unless otherwise noted.