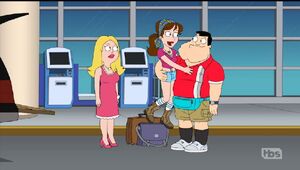 Mel is Stan's slot car partner and sometimes friendly competition.
After Stan becomes hooked on slot car racing in "Whole Slotta Love", Francine argues with him outside of the Langley Falls Airport as he prepares for a tournament in Altoona, pointing out that women don't find the racers attractive. As Stan dismisses this as he isn't interested in being attractive, Mel arrives. Francine is taken aback by what appears to be a full-body tattoo of slot cars that ends up in Mel's pubic area. As she leaves and Stan notes that he's right behind her, she flirts back that it is just how she likes it.
Francine is surprised to find out that Stan's partner is actually a woman and wonders why Stan never explained that detail previously. That night, she has a nightmare of herself with Stan and Mel, as she finds herself in control of a slot car that his racing all over Mel's body.
As Stan is distracted by his issues with Francine, Mel tries to make him feel better. Francine calls but Mel tosses the phone away and whispers a naughty suggestion in his ear. Stan wins the tournament but feels bad about events the previous night with Mel. As Stan starts to check out of the hotel, he finds Francine at the door. He breaks into tears and confesses to cheating with Mel which starts Francine crying as well. As he insists they must get a divorce, his confessions turns out that he "cheated" by illegally modifying his car.
Mel appears on the bank of monitors for Project Toilet Cam in "Paranoid Frandroid" and is at the farmer's market in "One Fish, Two Fish".
Mel is voiced by Dreama Walker.
Community content is available under
CC-BY-SA
unless otherwise noted.