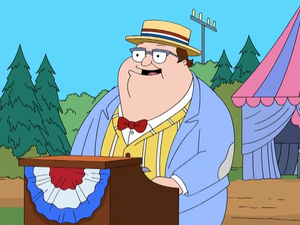 Mayor Alan Woodside is the Mayor of Langley Falls and a judge in the pie baking competition at the Langley County Fair in "Every Which Way But Lose". When Francine becomes determined to beat her rival, Carlotta Monterrey, who never shows up at the fair, she discovers that Carlotta is actually Hayley in disguise. However, at the fair they both lose to Roger, who had been secretly competing against them for years in his persona of Emmy Lou Sugarbean. Here, Mayor Woodside is voiced by Will Forte.
Mayor Woodside appears in "The Two Hundred" as one of the savage survivors.
Mayor Woodside returns in "The Mural of the Story" when Stan proposes to restore the town mural after it is vandalized. However, Stan botches the job and the town blames Hayley.
Stan runs for Mayor against Woodside in "Railroaded". After beating him and becoming a pawn as part of a plot by Roger, Stan frees the town but discovers that Woodside was killed. As a result, he leaves former President James A. Garfield in charge.