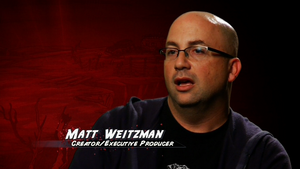 Matt Weitzman (born November 13, 1967) is one of the creators of American Dad!, and one of the original writers of Family Guy. Matt graduated from American University with a communications degree. Shortly after college he pursued acting with some success, then later began writing for television sitcoms.
Matt appears on regular basis as CIA lab technician, Dr. Weitzman.
Matt is also credited with co-writing "Pilot" and writing "Da Flippity Flop".
While continuing to be credited as executive producers, Matt and Mike turned over showrunning duties to Steve Callaghan in American Dad!'s ninth season. However, since Steve only lasted for a season, showrunning duties were reinstated for Matt alongside Brian Boyle.
External Links