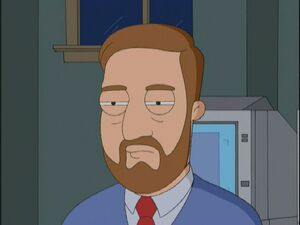 Marvin is a patron at the Langley Public Library in "Not Particularly Desperate Housewives". He becomes slightly angry with Francine Smith when she makes too much noise finding out about the murder of Anne Flemming while he is trying to vote girls 'Hot or Not' on the library's computer.
Marvin makes numerous other guest appearances, including at Francine's writing awards in "Manhattan Magical Murder Mystery Tour" and at the doctor's office in "Seizures Suit Stanny".
He attends the town council meeting regarding the new football arena in "Roots" and can be seen walking through Langley Commons in "The Dentist's Wife".
Marvin is at the Langley Falls Shopping Mall in "Whole Slotta Love" and at the town council meeting in "The Mural of the Story". He can also be seen entering Sub Hub in "The Long March".
He can be seen at Lanceton Outlets and in the audience at Steve's play in "Tapped Out" and in a photo with the 'assassin' in "Roger Needs Dick".
He dines outside of Les Pantalons Fancie following Jeff's intelligence enhancing procedure in "Who Smarted?" and can be seen at the Pig Pen Bar and Grill in "Crystal Clear".
Marvin is voiced by Mike Barker.