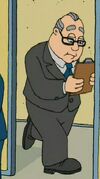 Marcus is one of Stan's co-workers at the CIA. In the Pilot episode, he passes by Stan's office and Stan rushes out to show him his pencil topper of Osama bin Laden with the pencil stuck up his 'pooper'.
Marcus appears ringside as Stan fights Ted Feedler in "Threat Levels" and laughs at Stan during his psychologist session in "Roger Codger".
He umpires the father-son baseball game in "All About Steve". He also laughs at Stan when another agent knocks papers out of his hand.
He attends the banquet for Avery Bullock in "Stan of Arabia: Part 1" and attends the hearing in "The Magnificent Steven".
Marcus attends the CIA briefing in "Moon Over Isla Island" and is at the Chimdale Mountain Inn in "100 A.D.".
Marcus is part of Avery Bullock's "inner circle" in "She Swill Survive" and is present when Bullock looks for a volunteer to be laid off for a month in "Big Stan on Campus".
He is an aide to Mayor Woodside in "Railroaded".
Appearances