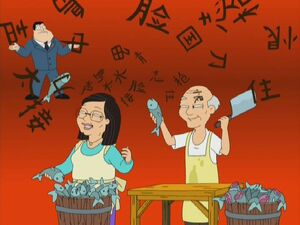 Mama, Baba was a song from "Big Trouble in Little Langley". It is about Stan's joy of having his "dream in-laws". This song is a parody of "Dance, Ten; Looks, Three" from A Chorus Line.
Lyrics
Stan: Wow. You have Asians working for you rather than being related to you. This is how it's supposed to be. I'm finally home. Mama, Baba, in-laws show up uninvited, temper tantrums are incited. Speak in English, SPEAK IN ENGLISH! Mama, Baba, so unrefined. Stupid printer didn't get me down, drove out of town, look who I found! Nick and Cass - they're the in-laws of my dreams. Caucasian folks of well-off means. Love the place I'm in. No more Mandarin! Steaks and cash.
Nick: Pull!
Stan: Shooting rolls of paper towels as they enunciate their vowels. God, I'm happy, hey! Found a home today! Ducks and chopsticks. Boundaries, they don't give a hoot. Farting in my bathing suit. Who needs that, Stan, WHO NEEDS THAT, STAN?! Nick and Cass - now I'm skiing on a yacht. Suddenly, I'm drinking sparkling wine. Living like a swell is mighty fine! If you find your mate's adopted, new in-laws can be coopted! Screw the past, this is my new family now! And my life is back to God's design. These are not your in-laws...be...cause...they're...mine!