Site Updates

News

Never been here before? Want to stick around? That's fantastic, because we'd love to have you here. Check out the New Members page for a bit of information on how to get started here at American Dad Wikia. We have made our own member list for your convenience. Please come on over and add your name to our list of contributors.

We'd be delighted for you to help contribute to this project. Editing American Dad Wikia is extremely easy, and requires very little html code. Instead, we use a simpler system supported by WikiMedia. The Sandbox is a place for you to go and practice editing and creating pages. Drop in and see how easy it is to use American Dad Wikia.

Comb Over: A Hair Piece aired July 26th, 2021 at 10:00/9:00C on TBS


Stan finally decides to do something about his secret baldness and enlists the help of Josay Bosay, Roger's famed hair-stylist-to-the-stars persona.

Flush After Reading aired July 19th, 2021 at 10:00/9:00C on TBS


Francine and Roger get lost in a good book -- or five -- after Francine escapes an embarrassing situation; Stan reluctantly hangs out at the library.

Watch the latest episodes here.
Random Opening Gags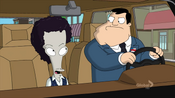 Reaganomics Lamborghini: present day version from "Fartbreak Hotel"
Plot Heavy airs August 2nd, 2021 at 10:00/9:00C on TBS

After Stan sells off the coveted family plot, the family opens their own cemetery in the backyard with the help of basketball Hall-of-Famer Scottie Pippen.
The Sinister Fate!! airs August 9th, 2021 at 10:00/9:00C on TBS

A new friendship causes Hayley to start worrying she might be slowly turning into Francine. Steve and his friends try out for Roger's improv troupe.