Site Updates

News

Never been here before? Want to stick around? That's fantastic, because we'd love to have you here. Check out the New Members page for a bit of information on how to get started here at American Dad Wikia. We have made our own member list for your convenience. Please come on over and add your name to our list of contributors.

We'd be delighted for you to help contribute to this project. Editing American Dad Wikia is extremely easy, and requires very little html code. Instead, we use a simpler system supported by WikiMedia. The Sandbox is a place for you to go and practice editing and creating pages. Drop in and see how easy it is to use American Dad Wikia.

Crystal Clear aired September 6th, 2021 at 10:00/9:00C on TBS


Stan gets in over his head trying to impress Toshi's dad; Klaus and Jeff head to the country for a weekend getaway.

Cry Baby aired August 30th, 2021 at 10:00/9:00C on TBS


When Stan realizes he can't cry, he asks Steve to teach him empathy.

Watch the latest episodes here.
Random Opening Gags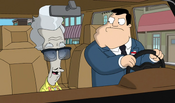 Max Jets from "Max Jets"
Steve's Franken Out airs October 25th, 2021 at 9:30/8:30C on TBS

When Principal Lewis threatens to cancel science club, Steve takes matters into his own hands in a monstrous way.