Love, American Dad Style
Hayley sings at Roger's bar, and Roger falls in love with her.

Season: 8 Episode: 1
Total Episode Count: 134
Prod. no.: 7AJN03
First Aired: September 30, 2012

Guest Starring: Nathan Fillion
Featuring: Hayley Smith, Roger
Also Appearing: Stan, Francine, Klaus, Steve, Stelio Kontos, Jeff Fischer, Felix, Bad Larry, Brett, Quackenbush, Darren, The Red Man Group
Musical Numbers: Someone to Watch Over Me, Makin' Whoopee!, Potato Bread

Director: Josue Cervantes

Assistant Director
:
John O'Day
Writers
:
Erik Durbin
Storyboarders
:
Casey Coffey
,
Jamie Iglehart
Roger's Disguise
: Malt Shop Owner from "
Stanny-Boy and Frantastic
"
Plot
: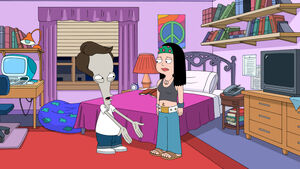 After casually insulting Hayley for taking the last of the potato bread he overhears her singing in the shower and invites her to sing at his bar. Her singing becomes a hit and Roger develops a crush on Hayley. After trying unsuccessfully to break off his feelings for her, Roger shoots Hayley but finds that doesn't end his feelings for her. Kidnapping her to the Lanceton Ice Factory, he plans on taking off her skin but is interrupted by Jeff Fischer who has returned from an appearance on Deadliest Catch. Hayley gets Roger to understand that her love for Jeff is mutual and something she doesn't share with Roger so Roger decides to skin Jeff instead. When that also fails, Roger decides to return Jeff's skin.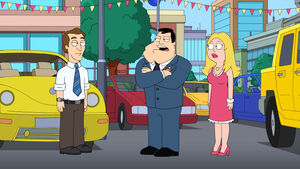 Meanwhile, Stan tries to trade in his SUV for a good deal on a new car. When the salesman refuses to give him more than $10,000, Stan decides to sell the car himself. After several failed attempts, Stan tries to put on a show involving a bathing beauty and a lion which results in the lion attempting to eat the girl until they both end up in the SUV as it rolls into a power pole and bursts into flames, the girl finally being caught by the lion as the flames consume both as Stan slips back into the house away from the shocked onlookers.